"The Wellness Code" Book
"The Wellness Code"
(digital download edition)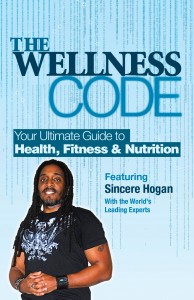 Click Here To Purchase Immediate Download
"The Wellness Code" book, in which I co-authored with health expert, John Spencer Ellis, et.al is not your typical cookie-cutter "diet and exercise" book. This is about seizing control of your health, and every aspect of it: mind, body, and soul.
Life is not about feeling sick, tired, and defeated. It's about being ALIVE! When I say "alive," I don't mean just breathing. I truly mean being alive, with a fire inside that motivates you to seize the moment with your energy levels on "full."
If you are ready to forge ahead, with unstoppable force and feel "alive" once again, then I, along with the other great co-authors of "The Wellness Code" have put together a great set of tools, covering 27 chapters, to get you going, right here…right now.
"The Wellness Code" is your key to health . Check it out and grab your copy today. It's time to get well: it's time to feel alive.
About "The Wellness Code" book:
Cracking The Wellness Code has been on our minds for a long time! Quotes on 'wellness' abound through the ages: The part can never be well unless the whole is well ~ Plato Mankind has aspired to long life throughout the ages.
He has long recognized that without 'sound mind' and a satisfactory 'quality of life' long life is not an attractive prospect. Philosophers and sages – including the unknown cynic who stated that 'Good health is merely the slowest way to die!' – have offered numerous solutions to this long-standing predicament.
This is where the Celebrity Experts® shine light on the subject. I, along with my fellow Celebrity Experts®,  in this book document the fact that healthy bodies and healthy minds are key ingredients to cracking The Wellness Code. In our lives, there are many different routes to "Wellness" for each of us. There is no panacea.
Consequently, this hand-picked group of Celebrity Experts® and I focus on the most relevant areas, including: nutrition, diet and exercise, physical and mental health, medical considerations, career wellbeing and healthy habits. In the search for "Wellness" the Celebrity Experts® discuss healthy living from the standpoint of balance, lifestyle and mindset.
Click Here To Purchase Immediate Download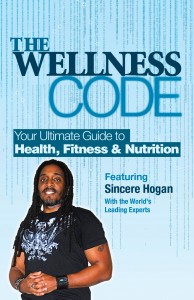 When you read this book, you will find numerous topics of interest written by those who have experienced positive results. These leading coaches in their subject matter and I have poured out our best tips that clients invest thousands of dollars to glean. This subject matter is set in a contemporary setting for twenty- first century relevance, so read and enjoy………..
"Mens sane in corpore sana." ~ Juvenal (A sound mind in a sound body)
What People Are Saying About My Chapter in "The Wellness Code"
"Sincere, I just finished your chapter in "The Wellness Code",
and it was right on target for today's chaotic world. The emphasis
you put on recovery, movement, and handling stress is what people
need now! Nice work!"
Frank DiMeo – Crossfit Gulf Coast
"I am halfway through it but I started the book with your chapter.
I quoted a paticular part on my page and sent it through email to
many of my friends who fight. I am in agreement with your approach
to being flexible with your training, the environment it's done in
( I am very much an outdoor girl) the importance of breathing,
meditation, and disconnecting from too much technology.
Many fighters focus so much on training hard all the time and
placing their minds in an intensely focused , but highly stressed
mode. While it is important to have that switch ready to go on when
you enter the cage/ring, it shouldn't be 24/7. giving more by doing
something else besides your sport is important too- besides yourself
and a few other coaches , more need to give of their time."
Joy Byxbee – Pro MMA Fighter & Coach/Military Vet
"Sincere u r a genius! Awesome book n thanks bro!
I purchase e-book n excellent to u bro!!!"
Steen Jensen – Sydney, Australia
"Hey Sincere, Loved your part in the wellness code
the book itself had a lot of great stuff!"
Johnny Grube – WildmanTraining.com
"Read your chapter in "The Wellness Code" this morning. Top notch!!"
Chris Normand-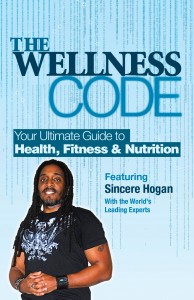 Note: The World's Leading Expert Authors include Kelli Calabrese, John Spencer Ellis, EdD, Linda M. McCarthy, Ph.D, Mallory Cargile, Briar Munro, Lisa Fox Bail, CK, La-Verne Parris, Helen M. Thamm, MS, APRN, CPC, Annie Hodgskiss, Gavin Kent, Dexter Tenison, Camille Scielzi, Inger Pols, Sabreena CopeLyn, PhD, ACPEC, SPHR, Lisa Mercier, Katrina Luise Everhart, RYT, Warren Martin, David Krainiak, Diane Scarazzini, Joe Martin, Michael Coleman, Kevin M. Harvey, Kristen Harvey DPT, Gregg Viscuso, Justine SanFilippo, Dorothy Jantzen, Sincere Hogan, Doug Duerr and Raymond James