Buffer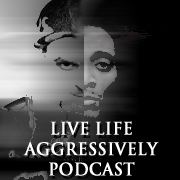 The wait is over! Episode 1 is now available for your downloading & listening pleasure, below. In this week's episode, we discuss:
Why We Did It
Why Be "Aggressive"
The Death Of The Profit-Driven Fitness Pro
The Misconception of Goal-Setting
Suggested Gratuity? We've Got A "Tip" For Ya
Women Don't Do Well With Rejection
Mike's "Urban" Club Experience
Sincere's 1st Concert Date w/ Marilyn Manson
Mike & Sincere's Upcoming Projects
What This Podcast Is "Not"
Listen Here:
[podcast]http://traffic.libsyn.com/livelifeaggressively/LLApodcastEp1.mp3[/podcast]
or Grab The  Direct Download Here:
Live Life Aggressively Podcast – Episode #1: 050813
.