Buffer
It's been a long time coming, and the moment is almost here. It's time for New Warrior FitCamp & New Warrior Kettlebells to go deeper underground, as we prepare to relocate to Old School Strength & Conditioning gym (also home to Mike House's Strength Camp). Thus, for my folks in the Houston, TX. area, as well as those visiting Houston & wanting to get in some hardcore training, during your visit, I wanted to give you a early look at the new New Warrior FitCamp & New Warrior Kettlebells Underground Strength gym location.
The future of New Warrior Training Systems™ & New Warrior FitCamp is going beyond the outdoors. We're going "Underground."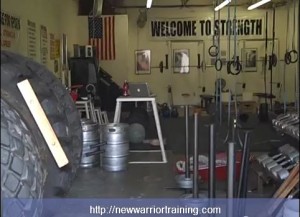 The new New Warrior In & Out System™ will include: Kettlebells/Sleds/Stones/Kegs/Ropes/Prowlers/Atlas Stones/Monkey Bars/Gymnastics Rings/Jacobs Ladder/Dumb bells/Barbells/Sandbags/sandbells/More tires (from 150-630lbs)/More bodyweight (our bread & butter…w/o the bread & butter)/and new & improved fat-shrinking, lean body building, fluff-free, New Warrior Training.
This is all-around fitness for anyone, not everyone. Oh, did I mention, we are heading to Southwest Houston? In a little over 6 weeks, Southwest Houston is reborn. Message me, to reserve your spot.
For more information  on Houston area class sign-ups, workshops, kettlebell sport training, fitness bootcamps, and more, hop over to http://newwarriortraining.com/about-new-warrior-fitness/
.

.