Buffer
I'm looking forward to teaching with my friend & top MMA conditioning coach, Rev.  Bart Stewart (Paradigm Training Center/Primal Iron) at our upcoming strength & conditioning seminar for combat athletes and those who wish to utilize combat/MMA athlete conditioning, at Houston's premiere martial arts training facility: Paradigm Training Center.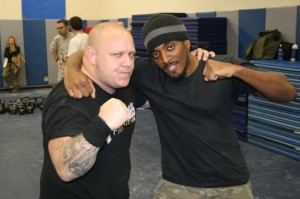 This 6 hour, fully hands-on, seminar is slated for Saturday, March 24, 2012, from 10 – 4 and covers various strength & conditioning modalities implementing kettlebells, advanced bodyweight, unconventional training methods with tires, ropes, and much more.
Our seminar also covers programming, joint mobility, recovery, and much more. Some of the areas top MMA & combat athletes will be in attendance, and spaces are limited.
Grab your spot today, and prepare to take your conditioning to the next level by hoping over to http://newwarriortraining.com/houstonmmaworkshop.
All workshop attendees will receive:
Bonus # 1: The Ultimate New Warrior Workouts Vol. 1 Ebook
Bonus # 2: Free Copy of My Ultimate Bodyweight Conditioning for Strength & Fat Loss DVD + Bonus Training Programs ($39.95 value)
Bonus # 3: Rev. Bart Stewart's "Primal Iron" Training & Conditioning for MMA Presentation
Bonus #4: Free Copy of The New Primal Iron Warrior Conditioning + for MMA & Combat  Workshop DVD (39.95 value)
Don't miss out on this rare combat conditioning seminar from two of the industry's top strength coaches.