Buffer
It's no secret that I am a fan of mixed martial arts. Actually, I'm a little more than a fan. However, that's beside the point. I'm even more of a fan of folks who bust their you-know-what on a daily basis, without worrying about being rewarded for it, yet eventually they are. Professional MMA fighter, and more importantly, friend, Carlo Prater is no exception.
I first met Carlo about a year and half ago, via my good friend, and a man I consider a brother, Rev. Bart Stewart. Prior to moving his training program to the prestigious Houston-based MMA powerhouse Paradigm Training Center, Bart operated his Primal Iron Strength Training facility about a block away from my, then residence, near Downtown Houston.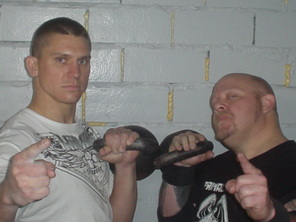 When I first met Carlo, he was very humble, welcoming, yet, focused. He also exuded an overwhelming sense of calm, despite the chaos that is Rev. Bart's apocalyptic-styled training techniques. Although Carlo has been putting in work in the professional MMA circuit via such great organizations such as WEC, FFC, IFC, PFC, Strikeforce, and Legacy FC, I could see from the aforementioned attributes, that it was just a matter of time before Carlo would get his big break in the ultimate MMA promotion, the UFC.
This Saturday night, the Brazilian-born, U.S. raised (including Oklahoma & the great state of Texas), Prater is set to make his UFC debut in Rio de Janeiro  at UFC 142. Carlo, with 40 fights (29-10-1) during his 10 years as a pro, finally gets a chance to show opponent Erik Silva and UFC fans, why other UFC vets Carlos Condit & Spencer Fisher have become casualties of Carlo's win column.
However, I wanted you to get an early sneak peak, and witness Carlo's work ethic, as well as what drives him to become a better fight, father, husband, and the epitome of a true warrior, each and every day, via his own words. Thus, I dug into the New Warrior archives, and shared the following clip of my visit with Carlo, Primal Iron coaches Bart Stewart & David Brashear, and the Primal Iron family.
(By the way, check out my clairvoyant moment at 5:40, into the clip)
New Warrior Nation, meet Carlo Prater. Carlo, meet the New Warrior Nation. Enjoy, and we wish you the best, during your UFC debut, brotha.
Click below to check out the rest of my visit with the Primal Iron crew.
.