Buffer
Today,  The New Warrior Training team presents a  guest post by fellow New Warrior:  Timothy Bell, PTS (Jungle Fit – Personal Training). I'd like to send a big fat, Texas-sized "Thank You" to Tim, for today's guest post. I know you will enjoy Tim's info, as well as the 3 Day training routine, Tim includes in this post. Give it a try, and let us know what you think. Also, share your comments on Tim's article, down below, in the comments section. We'd love to know what you think of bodyweight training. However, for now, here's Tim….
***************
For those of you who don't know me yet, my name is Timothy Bell. I'm a fitness educator, personal trainer, body weight expert, and the founder of Jungle Fit – Personal Training based out of Kingston, Ontario, Canada. I've spent my entire life involved in martial arts and fitness, the vast majority of which has been body weight oriented. Body weight training is where my heart lies, don't get me wrong … I LOVE lifting weights, kettlebells, and barbells. It's just that body weight feels like home to me, it's what the majority of my own training and my clients training is based upon. I've spent years of my life immersed in body weight training in one form or another, and every single day I research, explore, test out, and apply new body weight training techniques from the best around the world. It's not every day that I find a product, be it a book or video, that moves me enough to share it with the world. However, Sincere Hogan is not just any trainer, and his DVD "Ultimate Body Weight Conditioning" is not just any DVD.

I was impressed with Sincere's DVD in that his approach to body weight training goes beyond boring old jumping jacks and crunches!  Sincere Hogan's DVD is an excellent source for creative and animal inspired movements that will help you build strength, conditioning, and have a ton of fun. Sincere moves you seamlessly from basic to advanced exercises all with a dash of humor. Each exercise is well detailed and outlined so anyone can understand and practice. The audio and video quality is top notch as well, something you don't see regularly with most workshop filmed DVD's. I can't speak highly enough about this DVD and how it directly relates and compliments my e-book on the subject of body weight training.
I recently released an e-book called "The Jungle Fit Body Weight Solution", a book that will progress the reader from the most basic, to some of the most advanced body weight exercises. I crafted this book so that no matter what age, sex, fitness level, or access to equipment, you'll still be able to challenge your fitness using nothing but your own body weight. The book is really a solid text and wealth of knowledge in body weight training. The book is highly detailed covering pushing, pulling, pressing, squating, lunging, and core work and progressions for each (along with sample workouts and an FAQ section). This e-book will help you attain your goals no matter what they might be, but when these two products are used together … LOOK OUT!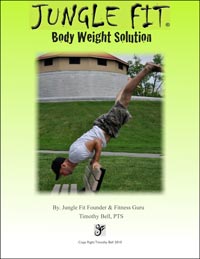 When the exercise in Sincere's DVD are used in conjunction with the ones found in my E-book, then all limitations with your body weight training will be broken! I assure you that using the knowledge outlined in both "The Jungle Fit Body Weight Solution" E-Book and "The Ultimate Body Weight Conditioning" DVD will push you to levels of health and fitness you never dreamed possible. If you want to build muscle, these products will teach you how … without any weights! If you want to lose body fat, these products will show you how … again … without any weights. If you want to get in the best shape of your life period and shatter plateaus … well you get where I'm heading! For those of you who own "The Jungle Fit Body Weight Solution" e-book and "The Ultimate Body Weight" DVD (or those about to) then here's some workouts that blend the best of the North with the best of the South! Let's smash some plateaus!
*****************
Workout #1: Perform each exercise for 1 min each with little to no rest between exercises. Once all exercises are complete, active rest for 1-2min. Repeat 3-5x.
Hindu Push Up 1min
Attacking Primate 1min
Body Weight Rows 1min
Deck Squats 1min
Fence Jumpers 1min
Active Rest = Jinga
Workout #2: Perform 5 rounds as fast as possible, for time.
8 Around The World Pull Ups
Water Moccasin 20 feet
10 Pistol Deck Squats (5 per leg)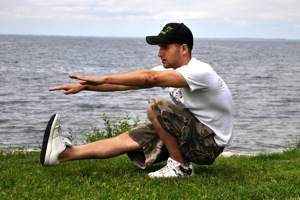 Workout #3: Perform as many rounds as possible in 15mins.
5 Thai Grip Chins
Saber Tooth Crawl 20 feet
5 Diamond Dive Bomb Push Ups
Timothy Bell is a heath/fitness educator, founder of Jungle Fit – Personal Training, and author of the "Jungle Fit Body Weight Solution". For more information on Jungle Fit as well as Timothy Bell visit www.Jungle-Fit.com