Buffer
The weather is unbelievably, yet truly appreciatively, cool here in my neck of the woods today. It's days like this that make going outside and training, a welcomed experience. Today's awesome Houston, Texas weather also reminded me of the following New Warrior hybrid bodyweight training clip I posted a while back. However, these exercises still kick butt and give you more bang for your buck, in your workout. Plus, it further goes to prove that you should not sleep on bodyweight training.
The following exercises still with my philosophy that bodyweight training does not have to be limited to the same old boring standard push ups, squats, unnecessary & countless crunches that are bastardized by uncreative so-called fitness professionals. In the following workout, we add a different twist (literally) to some old school bodyweight favorites, as well as utilize effective ways to use the full-body to build strength, jack up your metabolism, and even for some of you, get your cardio in, as well.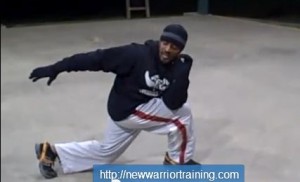 Today's workout is a mix of butt-kicking, hybrid exercises. Don't worry, if you don't know what half of these exercises are, or how to do them. I've included an instructional video with this post.
1. Heisman Lunges
2. 3 Step Hindu/Mt.Jumper Push Ups
3. 180 degree Seated Crunch
4. Swing Out Sister Dips
5. Run 400m (or skip rope x 360 reps or as many skips as possible x 3 minutes)
Perform ea. exercise back-to-back for 1 min. ea. rest 1 minute between exercises. Perform 3-5 rounds.
Find more great and challenging bodyweight exercises, on my new "Ultimate Bodyweight Conditioning for Strength & Fat Loss" workshop DVD at http://ultimatebodyweightdvd.com
For more info on kettlebell training, kettlebell sport, classes in Houston, online coaching, bodyweight & unconventional training, and more, be sure to check back here at http://newwarriortraining.com, often.
If you are in the Houston area, be sure to come and try our fitcamp. We're Houston's premiere fitcamp. Come see why we are not like any of the conventional "bootcamps." For more info, hop over to http://newwarriorfitcamp.com.