Buffer
Oh, it's turkey and stuffing (or "dressing" if you're from the South) time, here in the U.S. Therefore, it's that time of the year when most folks kick off the "how did I put on so much weight?" season. However, that's what folks who are not being in the moment behave. residents of The New Warrior Nation (that would be Y-O-U), constantly live in the moment, the "right now," and consciously make their decisions accordingly.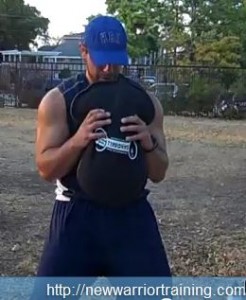 Keeping this in mind, I'm posting the following quick, fat burning workout, in order to help my New Warriors get a preemptive strike on the holiday pounds. Plus, I made sure this circuit of mostly bodyweight exercises, is quick and effective enough for you to get it in, get out, and get on with your holiday festivities with the ones who mean the most to you.
Here's a great fat loss & strength building circuit, utilizing a Sand Bell (or any of the substitutions listed below) & your own bodyweight. Give it a shot, and let me know how you do. Also, be sure to share this workout with all of your friends via email, Facebook, Twitter, and anywhere else where you know folks want to kick those holiday pounds in the you-know-what!

1. Sandbell Squat & Press
2. Fence Jumpers
3. Sandbell Ringers
4. Walking Sticks
5. 12 & 6 Lunges
– Perform each exercise for 1 minute each. x 5 rounds
– Beginners rest x 60 secs/ Intermediate rest x 30 secs/ Advanced = no rest, between exercises
– Rest 1 minute between rounds
– Substitute sandbells w/ sandbags, kettlebell, dumb bell, weight plate, heavy book bag, medicine ball, a baby, etc.
Get more great bodyweight exercises from my latest DVD: The Ultimate Bodyweight Conditioning for Strength & Fat Loss at http://ultimatebodyweightdvd.com.
For more info on when I will be hosting a New Warrior workshop in your city, as well as info on kettlebell training, kettlebell sport, classes in Houston, online coaching, bodyweight & unconventional training,and more, be sure to stop join my updates here!
If you are in the Houston area, be sure to come and try our fitcamp or kettlebell classes. We're Houston's premiere fitcamp. Come see why we are not like any of the conventional "bootcamps." For more info, hop over to http://newwarriorfitcamp.com.
.