Buffer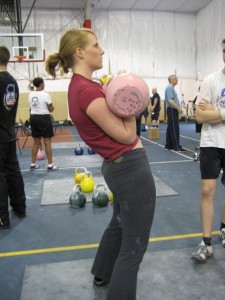 In part 2 of my interview with Kettlebell Sport athlete, Heidi Toy, we discuss where she sees her place in the future of Kettlebell Sport, her singing skills, the benefits of screwing up, Coach Sergey Rudnev, Yoda, and the responsibility of being potential pioneers in Kettlebell Sport in the West.
As mentioned in pt.1 of my interview with Heidi, during the past few years, Heidi Toy has become a familiar face within the world of kettlebell sport.  Earlier in 2011, Heidi decided to take her training in kettlebell sport to the next level, once she traveled to the origin of the kettlebell and GS (Girevoy Sport), Russia, and trained with top sought-after coach (and multi-time kettlebell world champion  and Honorary Master of Sport), Sergey Rudnev.
What do you want to know more about, regarding Kettlebell Sport? Be sure to drop your questions below. I'd love to hear from you.
For more info on when I will be hosting a New Warrior workshop in your city, as well as info on kettlebell training, kettlebell sport, classes in Houston, online coaching, bodyweight & unconventional training,and more, be sure to stop by http://newwarriortraining.com/workshops, for all upcoming New Warrior events.
If you are in the Houston area, be sure to come and try our fitcamp or kettlebell classes. We're Houston's premiere fitcamp. Come see why we are not like any of the conventional "bootcamps." For more info, hop over to http://newwarriorfitcamp.com.
.