Buffer
What's up, New Warriors? I had the pleasure of speaking with my friend and colleague Frank DiMeo of Crossfit Gulf Coast, the other day. Frank called me up and wanted to chat about what the awesome folks of the Sarasota-Tampa, Florida area can expect from my upcoming New Warrior Bodyweight-Kettlebell Conditioning for Strength & Fat Loss seminar at his gym on October 27, 2012.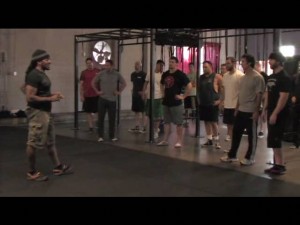 Take a few minutes to listen to this brief interview, & see what's in store for those of you wanting to attend. However, keep in mind, the time to grab a spot is running out. If you are wondering if this extremely hands-on course is for you, just see if you fit in the list of those who are the ideal seminar attendees, listed below my interview with Frank, and then register.
[podcast]http://newwarriortraining.com/wp-content/uploads/2012/10/sarasota2012interviewHogan.mp3[/podcast]
.
You are tired of searching the internet for bodyweight exercises, other than pull ups, that strengthen the muscles of the back
You've hit a plateau with your current training program and seek challenging, but "fun" exercises to add to your training arsenal
You are tired of experiencing shoulder and lower back pain, after performing push ups
You travel a lot or work long hours, and need the convenience of exercises that you can do anywhere, anytime
You have been training with bodyweight &/or kettlebell exercises in the past, but need to take your training experience to the next level
You are a coach or personal trainer & want to teach effective strength and fat-burning bodyweight and kettlebell exercises to your clients/team, while improving their progress & helping them avoid injuries
You want exercises that are a compliment & enhance your other training focus, such as: MMA, Kettlebell Sport, Running, Competitive Sports, power lifting, strongman, and more.
You are a coach or trainer seeking the most optimal exercises for any age group, prehab/rehab patients, or special population
You seek bodyweight & kettlebell exercises that finally live up to the promise of building lean muscle, burning fat, build strength, while also improving your posture, flexibility, endurance, and mobility
You are a beginner wanting to build your strength & power with bodyweight exercises, before moving on to lifting weights
You are tired of trying to figure out how to properly use a kettlebell without getting injured, during the process.
You want to know which kettlebell exercises "truly" are the most optimal for fat loss and strength
You're tired of tearing your hands, during snatches
You are tired of experiencing low back pain, after performing kettlebell swings
You are tired of banging and bruising your wrists, due to poor kettlebell clean technique
.