Buffer
In my opinion, Mike Mahler should have titled his new book, "Live Life Aggressively: What Self Help Gurus (& your so-called best friends, as well as your ego) Should Be Telling You." Yet, I guess that would be a tad bit too long. However, Mike's latest information-based effort addresses an area in which so many shy away from (including ourselves): telling us what we "need" to hear, instead of always what we "want" to hear.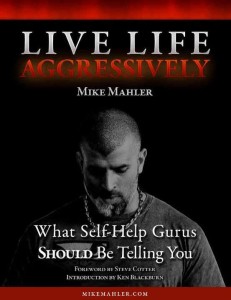 A few years ago, it seemed everyone and their mother was in an uproar over reading about (or watching) a collective group proclaim that in order to get what you want in life, you had to know a certain "secret." However, after making all of the affirmations, proclamations, and eventually realizing that some of these shelf-help gurus were setting them up for "intentional" constipation, most folks realized the one thing they sought and needed most, was not a secret, but a cold hard shot of "self-inventory and the truth."
As long as I have known Mike Mahler, I must admit that "the truth" is the one topic he has consistently sought out and shared openly, within his writings, his training, as well as his lifestyle. I dare you to find a so-called self-help guru that is even half as transparent as Mike Mahler. The one characteristic I've always been aware of, in regards to Mike, is that he believes timing is everything. The release of his new book, "Live Life Aggressively: What Self Help Gurus "Should" Be Telling You" is no exception.
Look, the truth isn't pretty; however, neither is life. Therefore, do not expect this book to request that you stand in front of a mirror on a daily basis, telling yourself that you are a good person, you can be wealthy, you can lose weight, or you can have it all.
What you can expect from Mike's book are boatloads of "ah ha" moments, and if you "truly" want your life to be a lot better than it is right now, you will take a look at that same image in the mirror and decide just how much you "really" want to change that image.
In other words, once you acknowledge what needs to change and what needs to be done, take a page out of section 3 of "Live Life Aggressively," and ask yourself, "What Are You Prepared To Do Now?"
Yes, Mike may be known more for his accolades in the world of strength and conditioning. As a matter of fact, if you are looking for another "workout how-to guide" from a physical training aspect, then this book is definitely for you. No, it's not a slim down in 6 weeks-type book. However, if you find yourself using working out as an escape from the realities of your life you continue to ignore, then "yes," this book is for you.
One of the things I like most about Mike's book is you can start from any chapter, and not miss a beat. Some days you may want to read or re-read the section on optimizing your hormones (Section 1), the next day, you may have to revisit and reflect Section 3 on why "Jealousy Is A Wasted Emotion." (although, I have a good feeling, both topics go hand-in-hand 😉
Please note that "Live Life Aggressively" is not another book focused solely on "how to make more money" or "how to be a success." This is a catalytic blueprint to help you take the much needed self-inventory required to attain a life worth "living," in conjunction with creating the potential "fruits" of that life, such as an increase in income, success, & more importantly, a life centered around "true" happiness.
Consequently, I am not without fault, in terms of a lot of the points Mike shares in LLA. However, unlike a lot of shelf-help gurus who put on an air of being flawless, Mike admits he is not without fault, as well.
In fact, LLA is not about preaching to you & making you feel worthless or shameful for being "human." LLA is a collection of thoughts and realizations based mostly through Mike's personal experiences.
However, once you get a few pages into LLA, you'll realize that we are all more alike than we care to admit. Yet, for most of us, the one constant is that we truly do desire a better life. However, for some, we are too distracted to observe what truly is keeping us from our purpose and the better life we seek.
LLA is a great and frank blueprint to explain who, what, when, where, and how to show you how to get out of your own way. And "NO," it's not "The Man" holding you down!  It's the one you see when you stand in front of your mirror each day.
Look, as the saying goes, "Knowledge is Power." Now that you know who's holding you back, take a moment to read LLA, and see how "Taking action with that garnered knowledge" can actually "empower" you.
I think one of the most powerful actions anyone can take, is to use the talents, gifts, blessings, or however you may refer to it, and share those gifts with those who may need those most.
What sets Mike's mission for writing LLA apart from so many self help gurus, is what Mahler says near the books end: "This book is about taking charge of your life and having the courage to make your life your message."
I truly agree. One of the best things in life is a life built around service and giving. Thus, anyone who is familiar with Mike, knows that he truly gives a lot, whether it's with the info he shares in his newsletter, his website, or his social media pages.
Therefore, it should come as no surprise that Mike opted to not receive any of the profits from the sales of "Live Life Aggressively." 100% of the proceeds from his book are going to two great causes: The Nevada SPCA and Lifequest Transitions.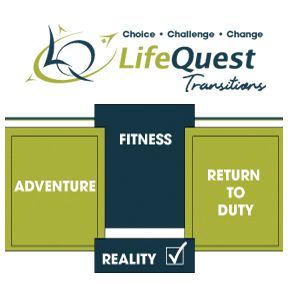 The Nevada SCPA is a "no kill" animal shelter that does an exceptional job helping abandoned animals find new homes. Lifequest Transitions is a outstanding organization that helps the military's wounded, ill and injured, through the use of fitness and adventure based learning.
Our soldiers sacrifice a lot for the freedoms we hold so dearly, and our pets and other animals can bring us so much joy and comfort. Not only does "Live Life Aggressively" serve as a resource to help you, it serves as resource to help those, who truly deserve assistance from those of us who are in a better position to help them live a better quality of life.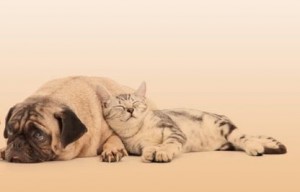 Lastly, one of the highlights of "Live Life Aggressively" is Mike's recommended reading list. These books helped shape some the chapters of LLA. However, beyond LLA, these books can help guide you on your journey of Self-inventory…should you decide to travel such a long winding (and often dark and lonely) road.
I own and have read some of the books that are recommended, and can vouch for how much they have helped me, as I continue my path of growth.
Thus, the takeaway message here, is that whatever growth tip you take away from LLA, understand that growth does not end with the final words of LLA.
Continue to work on yourself, honestly. Continue reading and learning from resources that help you be better each day. Surround yourself with those whose presence commands the very best from you. However, know that only you can decide to be better and do whatever it takes to get there. This is called evolution, and if you are not evolving, you're dying. Make the decision to start living NOW. Make the decision to "Live Life Aggressively."
To purchase you copy of "Live Life Aggressively," while generously supporting  the Nevada SPCA & Lifequest Transitions, simply hop over to http://www.mikemahler.com/LLA.html.