Buffer
I'm sure my New Warrior Kettlebell team members truly appreciated the fact that I started filming this, after they endured 3 previous rounds of this workout. Pardon my panting at the beginning, as I had just finished my kettlebell sport training, prior to shooting this.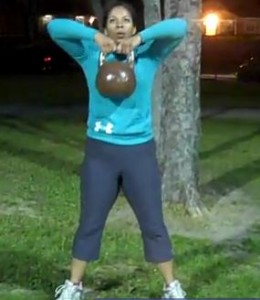 I will admit, this workout is very unassuming on paper, but definitely gets the blood flowing…to say the least 🙂
Here it is:
1. Kettlebell Goblet Jump Squat
2. 180 Degree Mt. Fence Jumpers x 5 fence jumpers ea. side)
3. KB High Pull
4. Walk Outs
Perform each exercise for 1 minute x 5 rounds
Rest  between exercises = 1min (beg.)/ 30-45 sec. (intermediate)/ no rest (adv)
Rest 1 min. between ea. round.
Give it a try and let me know how you do.
For more training videos, workshop updates, and more, be sure to subscribe to this blog.