Buffer
This was a killer day of play at New Warrior FitCamp – Houston. Check out my fellow warriors & then, run out and give this a try.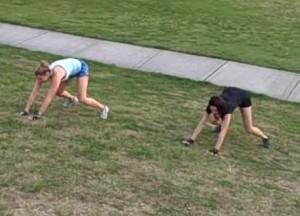 Here's what we did:
1. Run Stairs x 5 min.
(rest 3 min.)
2. Sabertooth Crawl Uphill/Jog Downhill x 5 min.
(rest 3 min.)
3. Alt. between exercise 1 & 2 x 5 min
(rest x 3min)
Repeat for all 3 for another round.
If you don't have a hill to perform the sabertooth crawls, you can perform them on a field x 50 yds., do them on the stairs, or even a hallway (if you're inside).
If you do not have access to stairs, perform sprints on one of the alternate locations I just listed for the sabertooth crawls. No excuses!
Let me know what you think, by posting your comments, below.
Also, get more fat blasting exercises (that you can perform just about anytime and anywhere) at http://ultimatebodyweightdvd.com/
.