Buffer
Yesterday,  I ran across a video featuring NFL star Ray Lewis, that was just the kick in the pants I needed to hear. We all have good days and bad days, as well as, face challenges that seem make the road to success feel like LA traffic…going nowhere fast.  We're all human. However, we can all be great, which is just one of the things Ray touches on, in the following clip.
Although, I am a die-hard Dallas Cowboys & Houston Texans fan for life (often, to a fault), I've always admired this Baltimore Ravens pro linebacker's work ethic, spiritual foundation, and ability to not only make an impact on the football field, but in the lives of those he comes in contact with off of the field.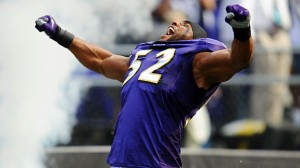 .
The following clip showcases Ray sharing what keeps him going everyday, and what motivates him to get better each and every day. Although Ray is speaking to a group of young football players, there is a ton of Ray's knowledge, beliefs, and work ethic, that any one of us can use, no matter what is our chosen path in life.  Take a look at the clip.
Be sure to take out a pad and pen. Ray is dropping gems, left and right. However, I have pulled 10 of those gems + a bonus, that resonated the most with me, and hope that they have the same effect on you, as you prepare to take on a new week, new day, new venture, and more.  Check it out and share your thoughts.
.
.
Here are the top 10 New Warrior Thoughts I got from Ray's speech:
1. Everyday of your life, find a different way to get better?
2. Don't let your alarm clock be the only thing that wakes you up in the morning
3. Every single day, you have to master your craft.
4. You don't have to necessarily be born with any special talents. However, you can make your mind up to "be" special.
5. Greatness is a lot of small things done well.
6. Until you change your mindset to think like a king, you stay with everyone else. Is that where you want to stay?
7. Let your language be worth more than your bank account.
8.  When your time is ready, you must be ready!
9. Don't ever let a day go by, that you waste, because that's a day you can't get back.
10. Knowledge is to be gained and passed along.
Bonus:
a. Don't let "anyone" tell you you're not good enough!
What do you think? What part got you fired up, and what are you going to do about it…Now?
.