Buffer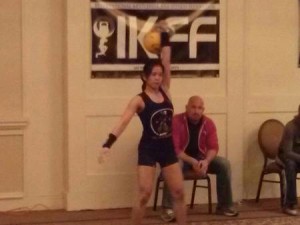 Who is this diminutive force of nature, holding that competition kettlebell with such strength and grace? The athlete in question is my good friend, Blackburn Kettlebell Sport Team teammate, sister, and who I view as the Filipino Wrecking Machine (sorry Mark Munoz) of Kettlebell Sport, Bea Rodriguez…..pronounced "Bay -yuh."
However, what is more pronounced, and what you cannot see in this photo, and that's the size, strength, beauty, and compassion of Bea's heart, especially for her Filipino roots, family, friends, and fellow countrymen.
On November 8, 2013, the Philippines, Vietnam,  and Micronesia, collectively over the course of a few days, where hit by what has been noted at the 4th strongest tropical typhoon to reach landfall in history. Typhoon Haiyan/Typhoon Yolanda reached up to a category 5, with winds clocking in at 195 mph (305 km/h), once making landfall in the Philippines.  Upon leaving the island, Haiyan claimed an estimated 10, 000+ lives,  an estimated million people displaced, and over $853 million dollars in damage. All of these numbers continue to grow, as the days continue.
In order to gauge the size and power of this storm, here is an image of Haiyan placed over the United States.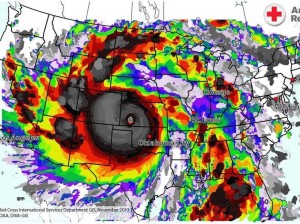 I'm sure many of you reading this post are asking what numerous people have asked, upon hearing of the destruction caused by Typhoon Haiyan, "How can I help?" Well, that question is why I'm posting about my friend Bea.
Bea has joined with the non-profit organization Direct Relief International. Direct Relief International, in their emergency relief efforts, are working fast to:
deliver medical supplies (antibiotics, pain relievers, nutritional supplements, anti-fungal medications, wound dressings, and chronic disease medicines);
provide search and rescue medical response teams with portable kits containing products for addressing the needs of displaced flood survivors; and
communicate with other healthcare provider partners on the ground, prepared to respond with more aid.
Bea's way of helping out is dedicating her upcoming kettlebell sport competition lifts to the Philippines. Saturday, November 16, Bea will be competing in IKFF Worlds Kettlebell Sport Championships in Novi, Michigan. Her goal is to lift a 16kg (35lb) kettlebell 100 times in the Long Cycle (clean and jerk) event.
If you want to support emergency efforts for the typhoon victims in the Philippines, you could choose to donate any amount per lift, or just a straight donation in any amount. A friend is pledging 5 cents per lift; some friends are giving straight donations. Our good friend and owner of Evolution Strength & Conditioning, located in Chicago, Mike Salazar, is donating $1 per lift.
Yours truly is also donating $1 per lift, on behalf of New Warrior Media.
The great news is that the value of your donation will be doubled. A generous donor, our good friend and trainer Sean Armstead, owner of Phenomenal Fitness – Chicago, would like to match your donations. He will match your donated funds up to a total of $1,000. 
Join Bea, Mike, Sean, and myself, as we all come together to help our brothers and sisters in need. Any amount you choose to pledge or donate counts, and will be directly used to help those affected by Typhoon Haiyan.
To pledge any amount, please hop over to http://kettle4pinas.wordpress.com/about/ , fill out the form on the page with your name, email, and donation amount ($20 straight donation; $1 per lift; etc).
After the competition, Bea will email you to collect your pledges. Donations will support the emergency efforts of Direct Relief International. She chose this organization because of their perfect score of accountability and transparency in Charity Navigator. They spend 98.7% of their budget on programs and services they deliver. Check out their charity rating here.
Thank you for supporting this small act. If you don't choose to donate to this cause, please consider contributing elsewhere or send your positive thoughts and energy to our brothers and sisters who happen to live in the third most disaster-prone country in the world. Together, we can help them recover, and see them smile again one day.
Together, aahon tayo.
(translation: "we will get out of the water" or "we will be relieved from this hardship")