Buffer
Kettlebell strength & conditioning coach, Denis Kanygin, of Kettlebell Systema, recently took time out of his busy schedule to  stop by New Warrior Radio's "New Warrior Nation."  To say this interview is highly informative, yet relaxed, is an understatement. Denis takes us through the humble beginnings of the sport of Kettlebell lifting, as well as helps to lessen the confusion on the varied schools of thought, regarding kettlebell lifting.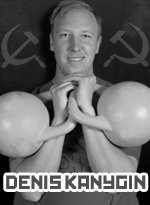 Denis also discusses how to utilize kettlebell core lifts for fat loss, power, strength, endurance, and how proper kettlebell training can carry over and enhance training in other sports, as well as help improve the quality of life for just about anyone, whether you're an athlete, or the 9-to-5er looking to shed some unwanted pounds.
Denis and I also discuss his latest DVD, Kettlebell Systema – "The Science of Kettlebell Sport," and his upcoming workshops. Denis has partnered with New Warrior Training to conduct a very "hands-on" Snatch workshop in Houston on October 30.  You still have time to grab one of the few available spots, and learn from one of the best kettlebell coaches in the world of kettlebell training. Simply, click here for more info on Denis's only 2010 workshop to be held in Texas.
Take a moment to listen my chat with Denis, and prepare to enjoy all of the gems he shares, regarding the culture of kettlebells. You can also download this call, for your future listening please, as well. I'm sure each time you listen you will discover and retain something new, that will only enhance your kettlebell training, no matter what level kettlbell training you are currently involved.
Be sure to drop a comment or any questions you may have, below. Denis andor I will definitely reply and help in way that we can. Also, be sure to share this post with your fellow kettlebell fanatics, by clicking any of the share buttons at the end of this post. OK, here's your interview. Enjoy!
Denis Kanygin – GS Sport Pt. 1