Buffer
This past weekend, wifey & I took an impromptu weekend trip to our new 2nd home, Austin, TX. I love to go there to just clear my head, or get some inspiration from one of the fittest/healthiest cities in America. This particular weekend did not disappoint. Along with all of the great places to eat in Austin, we always love to catch a good movie, while we're there. One particular movie I have been anticipating the release, was the martial arts action movie. "Ninja Assassin."
Now, let me let you in on a little secret. Since I was a youngun, I've always dreamed of becoming a ninja. In fact, it was reading about ninjitsu in magazines such as Kung Fu and Black Belt, as well as watching old school martial arts movies on Saturday afternoons, that helped create my love for MMA to this day.
Let's face it, Ninjas are bad a–. How can you not fantasize about being a dark suit-wearing, hood & mask dawning, sword swinging, chinese star-throwing, walking, hardly-talking, human weapon? Sigh……Ok…..I'm back.
Well, one of the things most noticeable in the movie "Ninja Assassin" in pop star/model-turned-actor Jeong "Rain" Ji-hoon's physique. While doing a little research on how Rain got into action hero shape, I discovered that Rain's training was not too far from how all of we New Warrior's love to train….plyometric bodyweight exercises….kettlebells…and various martial arts techniques. Of course, proper nutrition was a must for Rain to reduce his normal 12% bodyfat down to 5% for this role.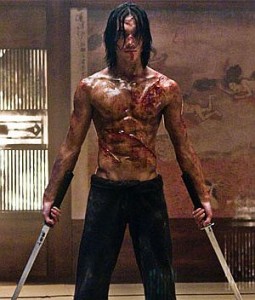 Now, most of us may not want to get down to 5% bodyfat, but how can you not want to be more agile, stronger, and possess a sleek, shredded physique? While most of us may not dream of becoming a dangerous "Ninja Assassin," we can at least aspire to look and move like one….at any age.
Here's a "Ninja Assassin" inspired workout I created for you. Perform this program for 4 weeks, or simply add this workout to your current program, in order to break the monotony and break through any plateaus you may be experiencing.
========================================================
Sincere's Ninja Assassin – New Warrior Inspired Workout:
– Perform Workout A on 3 non-consecutive days per week (i.e. M, F)
– Perform Workout B on 2 non-consecutive days per week (i.e. Tu, Thurs)
– Perform 1 Active Rest activity 1-2 times a week (i.e. Wed, Sun)
Be sure to warm up & cool down 5-10 min before and after each workout.
========================================================
Workout A:
Perform each exercise for 1 min. each w/no rest between all 5 exercises. Once you've completed all 5 exercises, rest for 90 sec & repeat. Perform 5 rounds.

1. Kettlebell or dumb bell swings
2. Fast Step Ups (Quickly run up and down, in place, on 1 stair step or a curb. Move your arms as you run in place)
3. Dips (for the more advanced: Plyo Dips)
4. Kettlebell or Dumb bell Farmers Walk (use stairs/football field/track/perimeter of backyard, hills, etc.)
(Keep your shoulders pulled down and pulled bacxk, as you farmer's walk. Also, keep your abs engageds, and your steps shorts and quick)
5. Static Leg Lift
(lie flat on the floor w/hands flat on the floor, near your butt. With both legs together, lift your legs a couple of inches off the floor, while engaging your abs/squeezing your butt/ & keeping your lower back and shoulders on the floor. Do not hold your breath!
========================================================
Workout B: Choose 1
1. Sprints (Stairs, Track, Football Field, Hills) x 1 min x 2 min rest x 10 rounds
2. Jump Rope Skipping + Shadow Boxing: Skip Rope x 1 min/ Shadowbox x 1 min/ Rest x 1 min x 20 min.
========================================================
Active Rest & Recovery Activities: Choose 1
1. Walking on various surfaces x 45-60 min
2. Yoga/Pilates
3. Tai Chi or Qi Gong (Be sure to check out my friend, Dale Buchanan's blog for great Tai Chi technique videos: http://supremeultimatefitness.com/)
4. Dancing
5. Massage x 60-120 min
If you think this is hard, check out Rain's training in action. All I ask is that you just get it done without the whining….lol!
By the way, if you've seen the movie, "Ninja Assassin," what did you think of the movie? Rain's training results? Let your fellow warriors know by sharing your comments below.