Buffer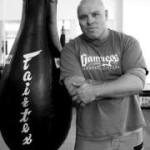 Gavin Van Vlack is a New York City-based strength & conditioning coach, who is also a
 veteran of the New York hardcore punk rock scene. Gavin began playing and touring in bands when he was 15. In his career he has founded and performed in several of New York's most influential young acts, including "Burn," "Absolution. However, Gavin has always had a love for physical culture and has coached a variety of clients from fellow hardcore musicians to high level martial artists. Gavin joins the LLA show to discuss the following:
Gavin describes his transition from performing with the New York hardcore band Burn to becoming a strength coach, training many combat athletes
Gavin shares his view of the infamous Harley Flanagan incident at Webster Hall, or as Gavin refers to as "The Night Everything Went Flanagan"
The guys talk canceling Facebook pages, posting d–k pics, and how New York hardcore saved lives
What is the most rebellious thing today's youth (as well as the rest of us) can do today, that will piss off the powers that be
Why would a man NOT want to be strong
Gavin shares how he uses his background as a hardcore music artist to help build his strength and conditioning business
The guys have an honest discussion of the quality of Jon Hinds' Monkey Bar Gym  and Lifeline products
The guys reiterate their stance on follow-along DVDs and finding a gateway to strength
Gavin talks Tait Fletcher's Caveman Coffee vs Dave Asprey's Bulletproof Coffee 
Links & Resources mentioned in the show:
Listen and download at http://strengthbymahler.com or http://newwarriortraining.com. 

also subscribe, download, rate & review us at:

iTunes: https://itunes.apple.com/us/podcast/live-life-aggressively-podcast/id646524617 

Stitcher: http://www.stitcher.com/s?fid=34706&refid=stpr


Also, be sure to "like" and connect with us on our Facebook fan page at http://facebook.com/llapodcast.