Buffer
WOD: 041809
Here's my workout from yesterday, using double kettlebell work and one of my fav's, the jump rope. I just wanted something quick to get my heart racing and that would get all of my muscles involved intensely. If you have not incorporated training with 2 kettlebells at the same time, then what the heck are you waiting for?
Give it a try and let me know what you think. Also, what is your favorite double kettlebell workout or exercise? Please post below.
(BTW, check out the post-workout bonus video below, for your viewing pleasure)
1a. Double Kettlebell Outside Swings x 1.5 min
1b. Jump Rope x 2.5 min
2a. Double Kettlebell Clean & Jerk x 1.5 min
2b. Jump Rope x 2.5 min (increase intensity & speed by 20-25%)
3a. Double Kettlebell Clean & Press + Burpee x 1.5 min
3b. Jump Rope – various styles incl. double-unders x 2.5 min (increase intensity x 25-50%)
4a. Double Kettlebell Outside Swings x 1:30 min
4b. Jump Rope x 2.5 min (Intervals – Sprint via various style x :30/decrease speed x :30) x 2.5 min
While you are waiting for your heart to stop racing out of your chest, and you're cooling down, drink plenty of water and enjoy the following kettlebell video. However, please note: "Do not try this at home!"
Learn more about how to effectively & safely incorporate double Kettlebell work into your training program, by grabbing a copy of Mike Mahler's latest DVD, "Advanced Kettlebell Training & Hormone Optimization" at http://strengthbymahler.com. This 2 DVD set is a must have for anyone who truly wants to step up their kettlebell training, break through plateaus, receive quality instruction, and also learn how to optimize their hormones to finally live a more vibrant quality of life. Grab your copy, today.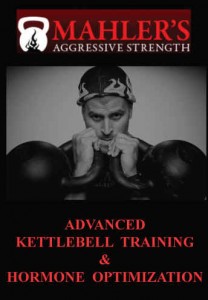 .