Buffer
I issued the challenge, and quite a few accepted and kicked butt. Thanks to all of those who told me they took on the "Killer Elite" Body Challenge, I put together week. It was a great way to give you an extra shot of motivation for the new year, as well as show you how bodyweight training can simultaneously help build muscle, shrink fat, build cardio endurance, as well as improve flexibility.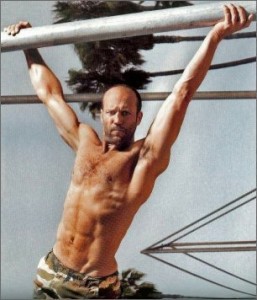 These are just a few reasons "Killer Elite" star and Hollywood bada–, Jason Statham, incorporates bodyweight training, into his daily routine. Below, are two clips from our first and second place finishers. The actual challenge is posted further down the page. In other words, although the contest is over, it's not too late to add this sick workout to your weekly routine. Give it a shot. It's not as easy as it looks on paper (or screen 😉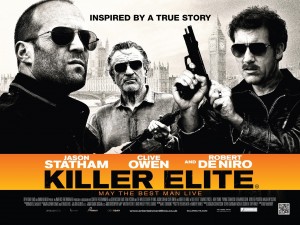 A big thanks goes out to my friend Valentina D., and the great folks behind the "Killer Elite" movie promotion, who provided some of the awesome prizes. As for our winners, Joy "T.J." Byxbee and Chris Cox,  congrats for raising your official New Warrior Bad A– status, and for the really cool prizes you snagged.
Take a look at both of them in action. Let us know what you think of Joy and Chris's performance, as well as what 2012 challenges you plan to take on and dominate.
1. First Place: Joy Byxbee
– 1 "Killer Elite" Blu-ray™ Combo Pack
– 30 minute coaching call with me. (so I can answer your top training questions to help you succeed in 2012)
– 1 digital download of my best-selling "Ultimate Bodyweight Conditioning for Fat Loss & Strength" DVD + all of its bonus training programs
Second Place: Chris Cox
– 1 "Killer Elite" Blu-ray™ Combo Pack
– 1 New Warrior 30 Day Ultimate Workout Guide
3. Third Place:
Rebecca "B2K" K.
Kimbra "FemBot2" H.
Patrick "St. Patrick" L.
– 1 "Killer Elite" Blu-ray™ Combo Pack
Here's the workout. Give it a shot, video yourself, and post it here, in the comments section below, or on my Facebook fanpage (http://facebook.com/peoplesfitcoach).
Now, here is your workout:
.
1. 25 x Fence Jumpers
2. 50 x Spider-man Push Ups (25 ea. side)
3. 75 x Drop-Rock-n-Push (the "Dirty DRP")
4. 100 x Prisoner Jump Squats
Perform each exercise back to back, without or with minimal rest between each exercise. Perform each exercise with good form. Lastly, perform this workout as fast as possible.
.