Buffer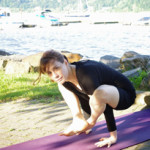 Claudia Altucher is a Wall Street Journal, Amazon, & USA Today best-selling co-author of "The Power of No," which she co-wrote with her husband, James Altucher. The avid yoga lover & teacher is also a speaker and has penned her own book, "21 Things To Know Before Starting An Ashtanga Pracice." During this episode, Claudia joins us to talk about the
importance & health benefits of learning how to say "No," how to avoid psycho potential boyfriends and girlfriends, the benefits of creating a Jdate.com account, even if you're not Jewish, as well as the following:
What did a prescription from Ice T's psychiatrist have to do with the "Power of No?"
Claudia explains why you should practice the art of saying "No" everyday
Mike shares his favorite episode of "Sex & The City"

How is television a breeding ground for learning how to say "No"

What are the benefits of Sincere's "bathroom meditation" & why Claudia is not a fan of the word "meditation"

How do you respond to someone who does not support your ideas and goals

Why the idea of "going to college" is like a new form of religion 
What Claudia's story of kicking "Jake" to the curb can teach you about following your instincts & avoiding a lifetime of potential misery
What is the real reason most women can't find a "good man" & vice versa
What is Claudia's particular relationship with suicide & at what time in Claudia's life did she want to die
Claudia shares the importance of going on a "complaint" fast & why you should start right now
Claudia shares how to go into "A.B.C. Mode" when someone tries to manipulate you
Links & Resources mentioned in the show:

Listen and download at http://strengthbymahler.com or http://newwarriortraining.com. 

or subscribe, download, rate & review us at:

iTunes: https://itunes.apple.com/us/podcast/live-life-aggressively-podcast/id646524617 

Stitcher: http://www.stitcher.com/s?fid=34706&refid=stpr


Also, be sure to "like" and connect with us on our Facebook fan page at http://facebook.com/llapodcast.