Buffer
Look, I love tea….. a lot. I also love coffee…..No, seriously. I really LOVE coffee, and I know  am not the only one. Can I get an amen? I've been known to post some coffee porn on my Instagram page, as well as other places on social media where I may hang out. In fact, I plan to attend barista school, hopefully, some time before the year. Yeah….it's like that, when it comes to my passion for coffee.
(still working on my latte art skills. Don't judge me 😉
I've shared this passion for this liquid black gold on numerous occasions on our weekly Live Life Aggressively Podcast. One of our listeners even reached out to both Mike & myself, to ask the following question, regarding coffee, dairy sensitivities, and what I feel are the best alternatives for those who like a little (or a lot….I'm not judging) cream in their coffee. Latte lovers, pull up a seat and check this out, then share your favorite dairy alternatives, as well as your favorite way to brew up a cup of Joe  in the comments section below.
Sincere,

 

I overhead you express your affinity for coffee on an LLA podcast a while back and was wondering if you drink it black or with cream?

 

I enjoy coffee with the flavored creamers such as hazelnut and french vanilla but I have have sensitivities to dairy cow's milk.  Do you have any suggestions on alternatives to the standard creamers that seem to be dairy-derived?  I do not find the powdered creamers enjoyable so I am looking for a line of products derived from an alternative to cow's dairy such as goat milk (to which I am not sensitive).

 

Thank you in advance.  I appreciate your insight's on the podcast!

 

Sincerely,

 

B.E.

Here's what Mike shared:
Hey B.E.,

I am sure Sincere will have more to say on the subject. However, one thing that works well is coconut butter (1 tablespoon) blended into a cup of coffee (mix it up in a blender). Coconut milk also works well. I don't drink coffee regularly but when I do the above two options work nicely.

– Mike
As some of you may know, I am a fan of all things coconut, so I'm with Mike on his suggestions. You can't go wrong with coconut….well, unless you are allergic to them. I wanted to add some other choices to the mix, as well. So, here is my reply:
Hi B.E.,

I drink coffee black and with cream/milk. The only time I include local heavy cream or local milk or half & half is when I am in the mood for a latte, breve latte, or cortado. I go with local, as it not treated with hormones, ultra-pasteurized, and comes from factory farms.

In terms of a non-cow's dairy choice, as Mike stated coconut butter is a nice alternative. I'm not a fan of most nut milks or soy milks, in terms of lattes, due to the lack of consistency and creaminess like that of cow's milk. However, one particular nut milk that I make that is creamy is sunflower seed milk. If you go this route, I would be sure to make it with vanilla bean or  alcohol-free vanilla extract, and maybe lightly sweeten it with maple syrup, local honey (good for inflammation, local allergy reduction, & is an anti-fungal, anti-viral, and anti-bacterial resource).

In terms of goat's milk or sheep's milk, if you can gt local, such as that found at your local co-op or farmer's market, that would be your best choice, as most local goat or sheep's milk is not as processed or processed at all, as those conventional brands found in commercial grocery stores. Also, local goat's/sheep's milk is very creamy, and has a consistency such as that of local whole or half & half cow's milk. If you have never had a Cajeta Latte (caramel sauce made made with goat's milk), you're missing out 🙂 Check this out: http://www.ourfoodshed.com/producers/6-fat-toad-farm/products/16-goats-milk-cajeta-coffee

 

Another more commercial source of non-dairy creamers is made by So Delicious, which is known for all of it's coconut milk products. When I was a vegetarian a few years ago, I consumed this brand frequently. However, as I discovered various studies regarding carageenans (an emulsifier used in most nut milks, including So Delicious's brands), and their relationship to colon inflammation and colon cancer in lab animals, I decided to try to actively avoid any products that contain carageenans (even though the jury is still out, in terms of the long term effects of carageenans and human colon health).

Lastly, if you can tolerate it, another choice is adding organic ghee (especially, local if you can get it) to your black coffee. Ghee is clarified butter that is prepared by boiling butter and removing the residue. However, it has been shown that ghee is the least likely dairy product to cause unpleasant intolerance symptoms. During the clarification process of making ghee, the milk solids are almost entirely removed, leaving the healthy butter fats behind.

Different ghees do vary, not only in flavor, but in quality. Very pure ghee (99 -99.5% pure butter oil) may have trace amounts of casein and lactose remaining, but unless a person is extremely sensitive, it will normally not cause problems, even if other dairy does.

If you have a lactose intolerance, be sure to check with your medical professional, in regards to the possible consumption of ghee. I will say this, if you can consume ghee, I feel you will never miss any type of cream or creamer in your coffee. By the way, the addition of ghee will leave a little oily residue on the top of your coffee, but don't let that bother you. 🙂

If that is an issue, you can also simply blend the ghee with your coffee, to get a creamy cafe au lait or latte experience.

I am not a fan of conventional creamers, as they usually have contain corn syrup solids and other processed ingredients, and by the time the product is finished, there is nothing that resembles cow's milk.

At the end of the day, the key to great coffee is the quality of the beans, the quality of the water (hopefully, filtered) in which you brew it, and in terms of adding cream, the source and quality in which the cream is derived. Hope this info helps, mi amigo. Enjoy.

Sincere~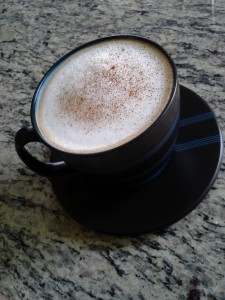 So there you have it, coffee fans. Let me know if these suggestions were helping to you. Also, if you have any other alternatives that you like to add to your favorite style of coffee, please share them in the comments section below.
Salud!