Buffer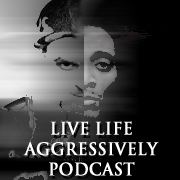 This week's listener Q&A segment of episode #35 of the twice-weekly broadcast of the Live Life Aggressively podcast is available right now. During this episode, Mike & Sincere discuss:
Why the fashion industry and "Black Friday" are "clever" rackets
What is TV show is worse than "Hoarders" and why
The ideal supplements for pet's joint health and the right situations to do so
Just eating real food vs. extreme supplementing
Tips to keep you motivated to train when you are no longer enthusiastic about training
How to avoid becoming an annual New Year "Resolutionary" & staying motivate to train beyond the first month of the new year
Why failure is always an option & when it's an option worth taking
Herbal supplements that may help women with PCOS (polycystic ovarian syndrome)
How does Mike & Sincere adjust their training goals to the busy holiday season, as well as what are their training goals for the start of 2014
Mike shares how he addresses gift-giving, during the holidays
Sincere's hybrid approach to mixing Jim Wendler's 5/3/1 program w/ Kettlebell Sport training
The benefits of getting stronger vs. cutting weight for kettlebell sport
HRT & other strategies for increasing testosterone when natural methods do not work
What is the LLA Podcast magic formula
How P.E. teachers & parents of children with autism utilize Sincere's bodyweight DVD
Mike & Sincere discuss the passing of Nelson Mandela & Paul Walker & how they were more alike than different
All this and much more. Download, listen, and share this episode now on iTunes: https://itunes.apple.com/us/podcast/live-life-aggressively-podcast/id646524617 (please leave us your reviews 🙂 Stitcher (please leave us your review): http://www.stitcher.com/s?fid=34706&refid=stpr or http://llapodcast.com. Also, be sure to "like" and connect with us on our Facebook fan page at http://facebook.com/llapodcast.
Links & Resources mentioned in the show:
5. Clomid