Buffer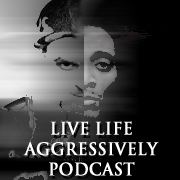 This week's listener Q&A segment of episode 33 of the twice-weekly broadcast of the Live Life Aggressively podcast is available right now. During this episode, Mike & Sincere discuss:
Does taking systemic enzyme, such as Restorezyme simultaneously with digestive enzymes, effectively reduce inflammation and why
When is the best time to take Betaine HCL, for breaking down protein in the digestive system
How effective is homeopathic HGH & IGF-1 vs. injections and why
What supplement & activity could give you a 30-40% boost in IGF-1 production
When it's not the best idea to "Go BIG" with your business, in order to compete with larger companies
What you can learn from Dr.'s mistakes, in terms of customer service
What fundamentalism becomes futile in business and in life
Who are the ideal people that should buy your products & why
Why PubMed and other various studies are a blessing and a curse
The latest findings regarding coffee and reductions in post workout soreness
Mike's favorite supplements for addressing adrenal fatigue
Can women benefit from Mike's testosterone booster & what supplements Mike recommends for women
All this and much more. Download, listen, and share this episode now on
iTunes: https://itunes.apple.com/us/podcast/live-life-aggressively-podcast/id646524617 (please leave us your reviews 🙂
Stitcher (please leave us your review): http://www.stitcher.com/s?fid=34706&refid=stpr
Also, be sure to "like" and connect with us on our Facebook fan page at http://facebook.com/llapodcast.
Links & Resources mentioned in the show:
3. Adrenal Energy by Life Extension : http://www.iherb.com/